One of the most exciting developments in energy recently has been the debut of bi-directional electrical vehicle (EV) chargers. This technology, now becoming available in the marketplace, has turned home-to-EV chargers into a conduit to vehicle battery power. Combined with solar PV panels that bring power into a home or business, the bi-directional EV chargers can create a flow of renewable energy that integrates the key parts of everyday life.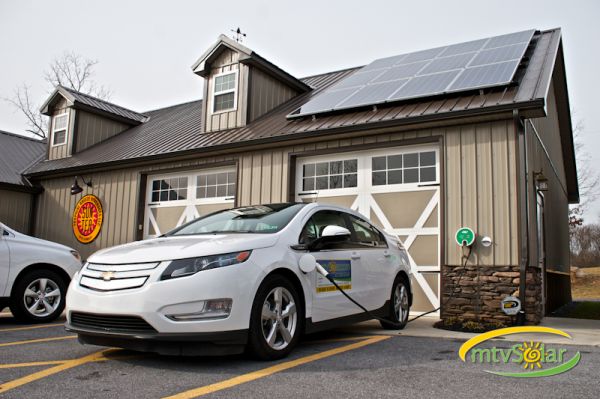 As The Washington Post reported recently, electrical vehicle manufacturers have recognized the value of making an EV's large battery storage capacity available to their owners for more than just driving up the road. A fully-charged EV sitting in the garage can now — with the right accompanying equipment — be tapped to power a home when needed.
Power goes both ways
Because electric vehicles already have the capability to dispense electricity, the leap to send power back to the home was a logical next step. Some EV manufacturers have now built their vehicles with that in mind.
"Instead of plugging appliances into the truck, the truck plugs into the house, replacing the grid. This requires some equipment: an 80-amp bidirectional charger and a home integration system, which is a hardware unit that allows you to disconnect your house from the grid and power it with the truck," the Post reported about one such vehicle.
Poised for new technology
One of our product partners, Enphase, is developing their own product to enable the V2H and V2G flow.
Enphase is currently working with EV manufacturers, regulators, and others to bring their bidirectional charger to market in 2024.
mtvSolar has evolved with the solar and battery industry since day one and is excited to see the Vehicle-to-Home (V2H) and Vehicle-to-Grid (V2G) technology become available to our customers. Our team has more than a decade of experience installing EV chargers in our customers' homes and businesses in tandem with solar, and we are poised to add V2H and V2G options as they continue to roll out into the renewable energy market.
To stay connected with mtvSolar and see how we continue to help customers achieve their energy goals, like us on Facebook or email us with questions at info@mtvsolar.com.