Mountain View Solar is among the Mid-Atlantic's most experienced solar and battery installers with a professional, employee-focused work environment.
Our leadership supports employees every step of the way in advancing each person's solar career and each person's growth. 
Our headquarters is located in Berkeley Springs, West Virginia with a full office and warehouse presence and we have a satellite office in Winchester, Virginia.  Our installation team and our electricians meet daily at our Berkeley Springs headquarters to prepare for each job.  We prioritize a work environment that both gets jobs done and respects each employee.
Whether you have deep solar experience or you are new to the solar industry, we would love to connect with you. 
Our employees receive benefits including, but not limited to: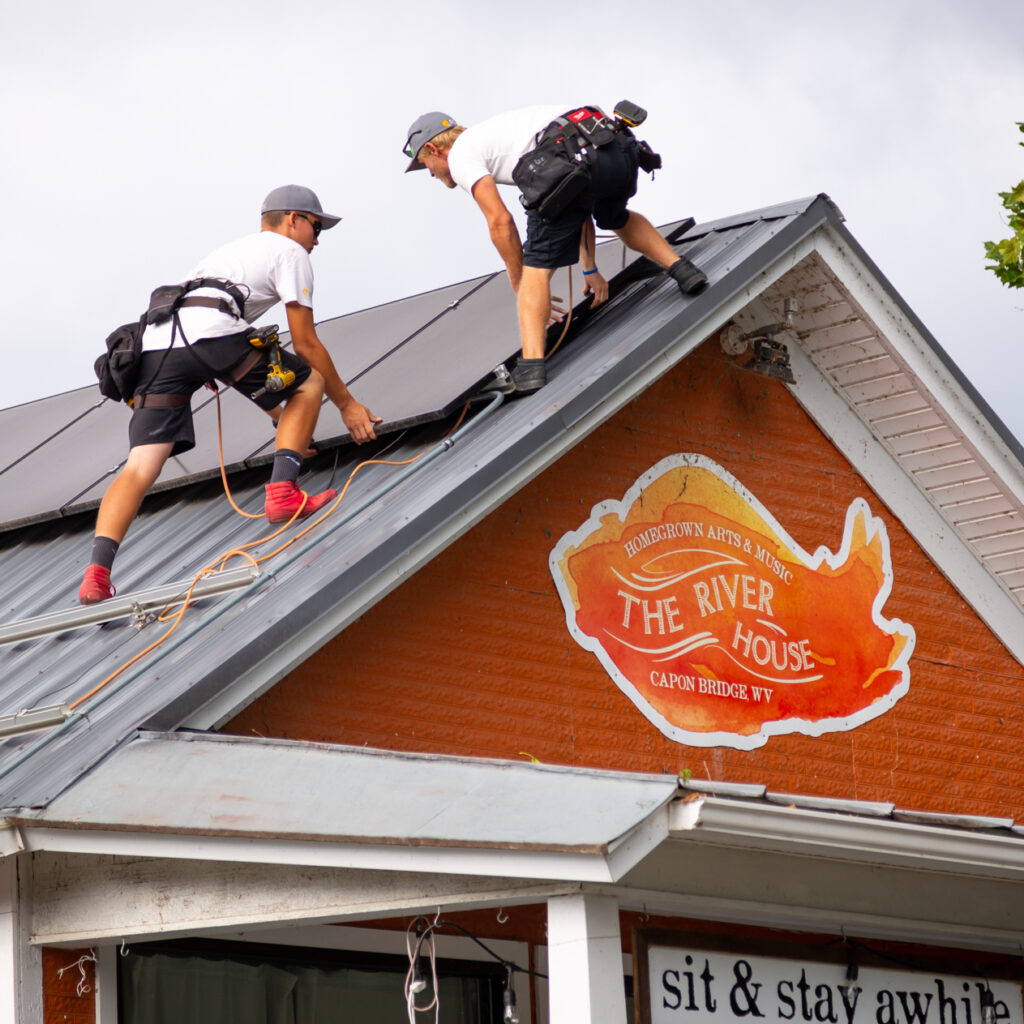 We currently have open positions in:
Mountain View Solar is looking to hire entry level and skilled solar electrical system installers.
Ideal candidates are motivated team players with a strong work ethic and a desire to learn and
master all aspects of installing PV solar systems.
Primary responsibilities to perform project installations include:
⋅ Mechanical/structural mounting of racking, modules and electrical equipment
⋅ Assembly of mounting hardware
⋅ Attic work in homes and businesses to verify structural attachment as needed
⋅ Working on residential and commercial roof tops as well as installing ground-mounted systems
⋅ Pulling inventory for specific projects
⋅ Following layout of solar modules
⋅ Attend mandatory training sessions on new products, methodology and safety
⋅ Perform PV system service as required
⋅ Travel to installation sites which may include overnight travel
Knowledge and skill requirements include:
⋅ H.S. Diploma, two-year degree in technology/industrial arts preferred
⋅ 1-2 years of construction background is preferred
⋅ OSHA 10 Certificate preferred
⋅ Valid driver's license
⋅ Experience in mechanical installations, general construction and ladder work
⋅ Experience with all types of hand-held and power tools
⋅ Basic understanding/experience with electrical wiring of AC and DC systems is preferred
⋅ Skill at adapting to changing priorities
⋅ Experience working with all types of building materials & various roof types
⋅ Team player who listens, learns, and actively communicates
⋅ Visual thinker good at problem solving and implementing ideas
⋅ Desire to learn and master all aspects of installing solar PV systems
⋅ Must have full range or mobility in upper and lower body; ability to work in various positions &
environments, including, but not limited to, stooping, standing, bending, sitting, kneeling and
squatting for extended periods of time
⋅ Ability to lift, pull and push materials and equipment weighing approximately 50 pounds on a
frequent basis
Please send your resume to jobs@mtvsolar.com.
Mountain View Solar is looking to hire a Solar Field Service Technician.
The mtvSolar Field Service Technician will be responsible for resolving customer issues, usually requiring an onsite presence. The position is largely a work on the road job, generally within 50 miles of Berkeley Springs, WV. Candidate may also be asked to assist install crews during busy periods. Candidate must be comfortable with ladders and on a roof.
Candidate will have reliable transportation to mtvSolar HQ in Berkeley Springs, WV. Company vehicle, paid travel and per diem are provided. Some sites are in remote locations and may require overnights in a hotel. Specialized tools are provided.
Major Qualifiers:
• Familiarity with SolarEdge, enPhase and Schneider Electric equipment a huge plus.
• Understanding of AC and DC circuits, and usage of a multi-meter.
• Basic IT hardware knowledge (Crimping CAT5 cables, routers, wi-fi, etc).
• Easily interpret technical instruction manuals.
• Must have a valid driver's license and be able to pass DOT screening.
• OSHA 10 or 30 hour certification.
• Excellent written communication skills (daily progress reports in Scoop are mandatory).
• Proactive customer communication and excellent client rapport.
• Proficiency with technology and administrative tasks such as paperwork and reporting.
• Strong trouble-shooting and decision-making skills.
• Comfort with having face-to-face / phone / virtual conversations with customers, co-
workers, inspectors, and all levels of management.
• NABCEP certification preferred (PVIP, PVDS, PVIS).
• Solar PV experience required.
• Ability to operate effectively with minimum supervision.
• Excellent record keeping and organizational skills.
Responsibilities
Utilize Scoop to retrieve list of service tickets and coordinate site visits with customers.
Resolve customer service tickets promptly via telephone call or site visit.
Populate Scoop with details including written and photos of the service call actions.
Example Service Tickets
1. System not reporting to Internet monitoring portal, requiring connection testing, firmware updates and basic IT troubleshooting.
2. System won't power loads properly during a power failure. This service request typically results from off-grid systems with shaded arrays, old worn batteries, or malfunctioning backup generators.
3. A customer wants an additional circuit relocated from their service panel to the backed up critical load panel.
4. A backup system needs its internal settings verified or updated.
5. Install or configure energy metering equipment.
6. Replace a RMA'd inverter, optimizer or micro-inverter.
Apply today if this sounds like something you'd enjoy doing. 
Please send your resume to jobs@mtvsolar.com.
Mountain View Solar is looking to hire a Commercial Crew Member to assist with the installation of solar panels on commercial structures.
Please send your resume to jobs@mtvsolar.com.
Mountain View Solar is looking to hire a Residential Mechanical Crew Member to assist the team with solar projects on residential homes.
Please send your resume to jobs@mtvsolar.com.