[Berkeley Springs, West Virginia, July 21, 2021] — The U.S. solar industry is on the upswing, thanks to a pro-renewables presidential administration and increased concern over climate change. Mountain View Solar has had a front-row seat to this action, with business increasing over the last year. Solar Power World has recognized the company's installation success by ranking Mountain View Solar at the below listed rankings on the 2021 Top Solar Contractors list.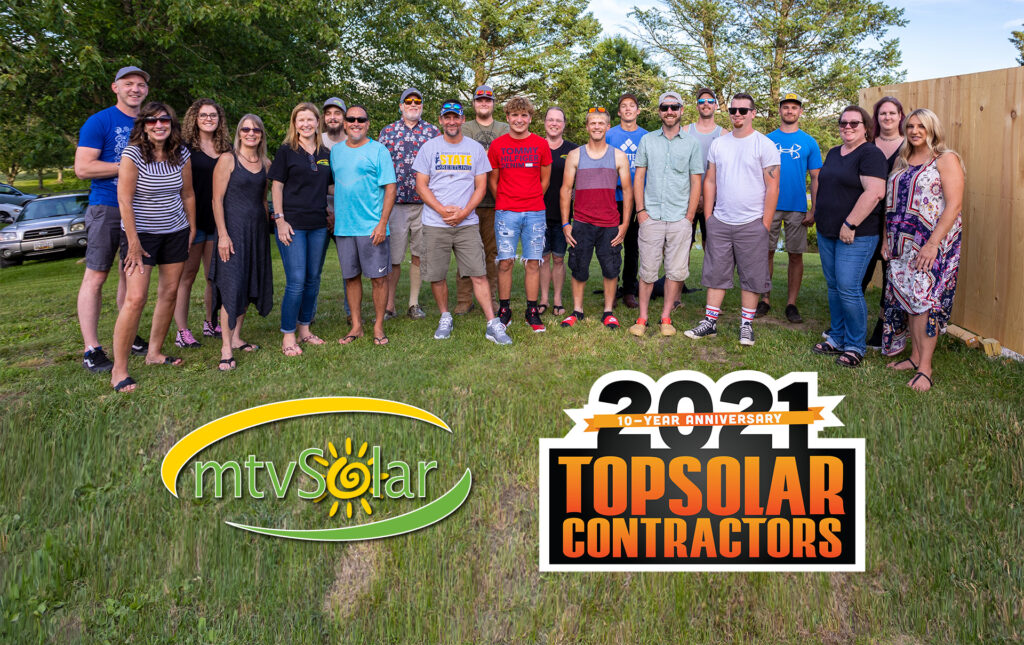 Number 1 Solar Contractor in West Virginia, Number 20 Solar Contractor in Maryland, and Number 31 Solar Contractor in Virginia
Number 61 Solar + Storage Contractor in the Nation
Number 107 Rooftop Solar Contractor in the Nation
Number 120 Residential Solar Contractor in the Nation
Number 283 Solar Contractor in the Nation
The Top Solar Contractors list is developed each year by Solar Power World to honor the work of solar installers in the United States. Solar firms in the utility, commercial and residential markets are ranked by number of kilowatts installed in the previous year. Companies are grouped and listed by specific service, markets and states.
"Not even COVID-19 closures and slowdowns could prevent the solar industry from installing fantastic numbers last year," said Kelly Pickerel, editor in chief of Solar Power World. "The Solar Power World team is so glad to recognize over 400 companies on the 2021 Top Solar Contractors list that not only survived a pandemic but thrived in spite of it."
The U.S. solar industry grew 43% in 2020, installing more solar panels on homes, businesses and across the country than any other year on record. The residential market saw an 11% increase, which is remarkable considering the difficulties of maneuvering home solar projects through pandemic precautions. During the past year, Mountain View Solar has added employees and services while continuing to expand renewable energy generation in Maryland, Pennsylvania, Virginia, and West Virginia
The federal government passed a two-year extension on the solar investment tax credit (ITC) at the end of 2020, which will further accelerate solar adoption across all market segments. After installing 19.2 GW in 2020, research firm Wood Mackenzie expects the U.S. solar market to quadruple by 2030.
Mountain View Solar employs more than thirty-five workers who, since its founding in 2009, have installed more than 12-megawatts of solar. Mountain View Solar continues to be our region's leader in custom, local, and quality solar and battery installations throughout the residential, non-profit, public, and commercial setting.
"Our entire team is proud to be a part of expanding clean energy right here at home," said Mountain View Solar's President Mike McKechnie. "As we look to the coming years of rapid growth in renewable energy, we are looking forward to opening up more employment opportunities for local residents and towards being a part of making good projects happen."
About Solar Power World
Solar Power World is the leading online and print resource for news and information regarding solar installation, development and technology. Since 2011, SPW has helped U.S. solar contractors — including installers, developers and EPCs in all markets — grow their businesses and do their jobs better.