Winchester, VA – Mountain View Solar's (mtvSolar) installation team arrived early Saturday morning to begin installing an array of 87 solar panels at the Kids Clubs of Northern Shenandoah Valley. Mountain View Solar completed the installation for free as part of their Community Giveback Program to non-profit organizations.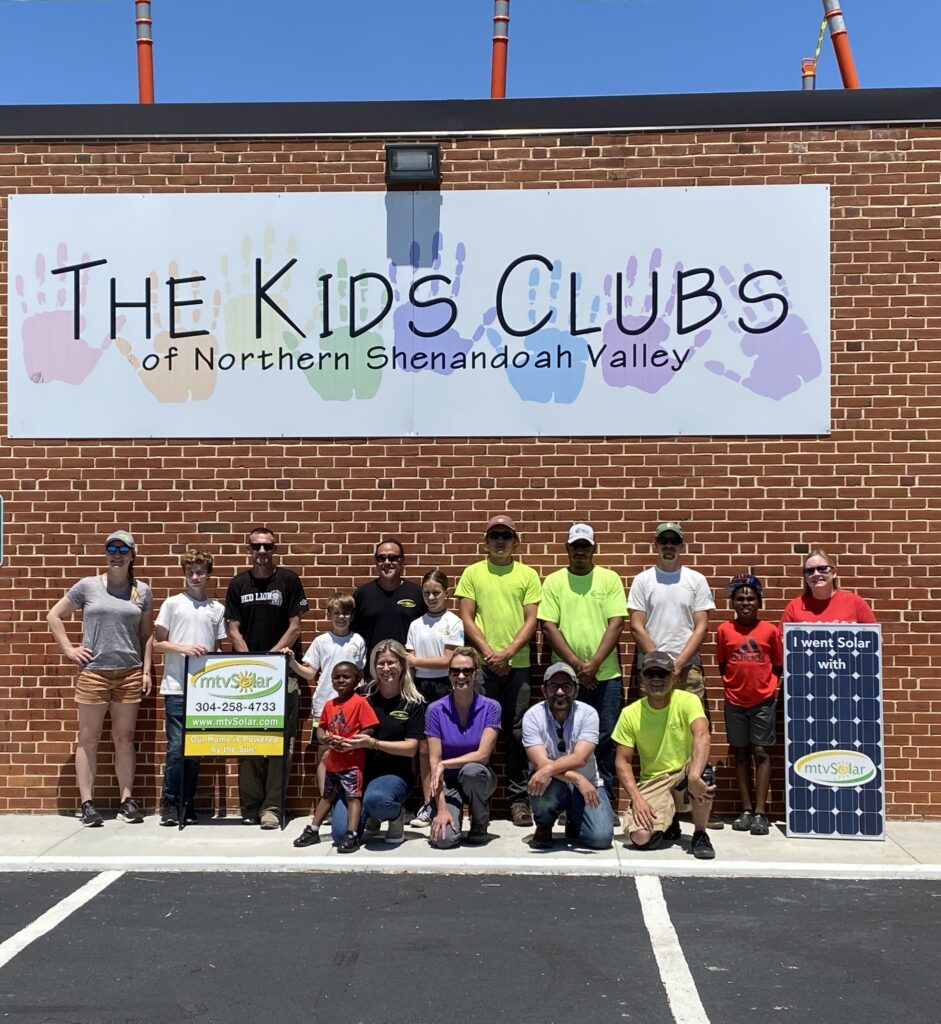 "We are proud to help out an organization that has such a tremendous impact on the Winchester community," said Mountain View Solar Founder and CEO Mike McKechnie. "Our installation in 2020 was just the beginning and we're so glad to complete this project to help the Kids Clubs reduce their energy expenses."
The Kids Clubs of Northern Shenandoah Valley offers after-school programming and summer camps for children ranging from elementary school through high school. Many of the children that attend the Kids Clubs live below the poverty line.
"This has been a dream of ours for a long time and it's amazing to complete this project," said Sarah Bradley, Director of Development and Marketing for the Kids Clubs of Northern Shenandoah Valley. "It also gives us a great opportunity to engage the kids with lessons on renewable energy and solar power. We're looking forward to using the savings that we will receive as a teaching tool."
Mountain View Solar is a regional solar and battery provider based in Berkeley Springs, West Virginia with satellite offices located in Winchester and Charles Town, West Virginia. Mountain View Solar has served the region by providing customized energy solutions for residential, commercial, industrial, agricultural, government, and non-profits since 1995.
"The resources that are being saved for the Kids Clubs will allow them to provide more services for the kids," said Winchester Mayor John David Smith Jr. "The City of Winchester recently adjusted our zoning laws so we can allow more permissible solar energy on buildings and that is an achievement that I am very proud of."
Mountain View Solar's Community Giveback Program operates on an "Install One, Get One" model in which every time a homeowner or business goes solar, they can donate one or more panels at no cost to a participating non-profit organization. The Community Giveback Program supports non-profit organizations who want to demonstrate clean energy and reduce their operating costs. Mountain View Solar is slated to continue the Community Giveback Program with other non-profit organizations this summer.
"This 35-kilowatt system is designed to cover 100% of the electricity usage by the Kids Club," said Mountain View Solar's Sales and Market Development Director, Danny Chiotos. "The reason why Mountain View Solar partners with the Kids Club is because of the rising prices in electricity, childcare, and family resource needs. The Community Giveback Program is our way of helping a local non-profit that has such a great impact on the community."
The partnership began in 2019 when Mountain View Solar donated $14,000 worth of the solar panels to the Kids Clubs of Northern Shenandoah Valley. In September 2020, Mountain View Solar installed 23 solar panels for the Kids Clubs of Northern Shenandoah Valley. By increasing the non-profit's solar array to 110 panels, Mountain View Solar will help eliminate the Kids Clubs' electric bills in order focus all their resources on programming.
"Getting the Kids Clubs to net-zero means the money can go back into the programs for the kids who are more than deserving of this," said Kerry Allden-Collis, Mountain View Solar's Inside Sales Manager. "My children are members of the Kids Clubs and the impact that this will have on the community is a legacy that will last for over thirty years."
For more information on the Kids Clubs of Northern Shenandoah Valley, please visit https://www.thekidsclubs.org/.