Maryland electric customers are about to see their residential power bills jump up as part of a planned electric rate increase approved by the state's utility regulators. Meanwhile, the market for solar energy credits remains strong, making this an optimal time to put solar to work for you and your wallet.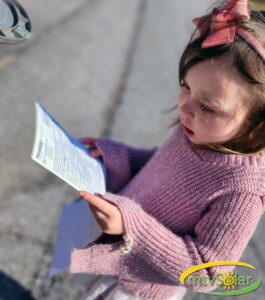 Customers of Potomac Edison will see their costs for Standard Offer Service (SOS) electricity rise on May 31, 2023 from 6.537/kWh to 8.910/kWh – more than a 30% increase. That price will remain in place for just four months. On October 1, 2023, the price for electricity will be 9.22 cents/kWh. Again, that price is just for the short term – through May 31, 2024. The price for SOS electricity from June 1, 2024 – May 31, 2025 will be set by Potomac Edison in January of 2024, the company says. Those costs reflect what electricity is costing Potomac Edison from its suppliers, the company says.
Maryland electric customers have choices about their power suppliers, from the open market to their own roof.
Solar energy continues to be a growing part of Maryland's energy portfolio and is a very viable source for residential power needs. Customers can buy into community solar projects, seek out other renewables or install their own solar panels. Right now, there are unprecedented levels of federal grants and tax credits to make residential and commercial solar generation an achievable reality. If you've been interested in adding solar energy to your home to offset rising costs for electricity, this clearly is the time to take a step in that direction.
For commercial operations and farms, additional funding for renewable energy projects remains available through the U.S. Department of Agriculture (USDA) as part of their REAP grants – Rural Energy for America Program Renewable Energy Systems & Energy Efficiency Improvement Guaranteed Loans & Grants. Project applications are due by March 31, 2023 for qualifying projects that serve small businesses and farms.
mtvSolar is your experienced, reliable source for guidance on adding solar to a home, business or farm in Maryland and the surrounding states. Explore our website, visit our FAQ page for Frequently Asked Questions about solar and click here to get your free estimate.