Questions to ask your solar contractor
Choosing your solar contractor is as important as that of any other major home improvement. Solar energy systems require specialist knowledge, especially if batteries and generators are involved. Mountain View Solar has been operating purely as a solar installation company since 2009 (previously, we built green homes as Mountain View Builders).
Solar is an electrical job. The system must be installed according to the current National Electric Code (NEC), and by experienced workers to be safe. The North American Board of Certified Energy Practitioners (NABCEP) was established specifically to ensure that installers have the knowledge to do the work properly. There are various NABCEP certifications, but the one you'll want to see associated with the installer's names is NABCEP Certified PV Installation Professional.
We know there may be other contractors competing for your business. To help you make a sound decision, here is a list of questions to ask a potential
contractor for your project:
1. Who will design my system? Who will install my system? Are those involved with my project full-time employees of the company? Do members of your team hold a NABCEP certification?
2. Do you have a permanent physical business location? How long have you been in business?
3. Where are your panels made? What is the warranty?
4. Do you handle all the permitting, inspections and interconnection paperwork and fees?
5. Can I inspect some real examples of your work? Can I talk to previous customers?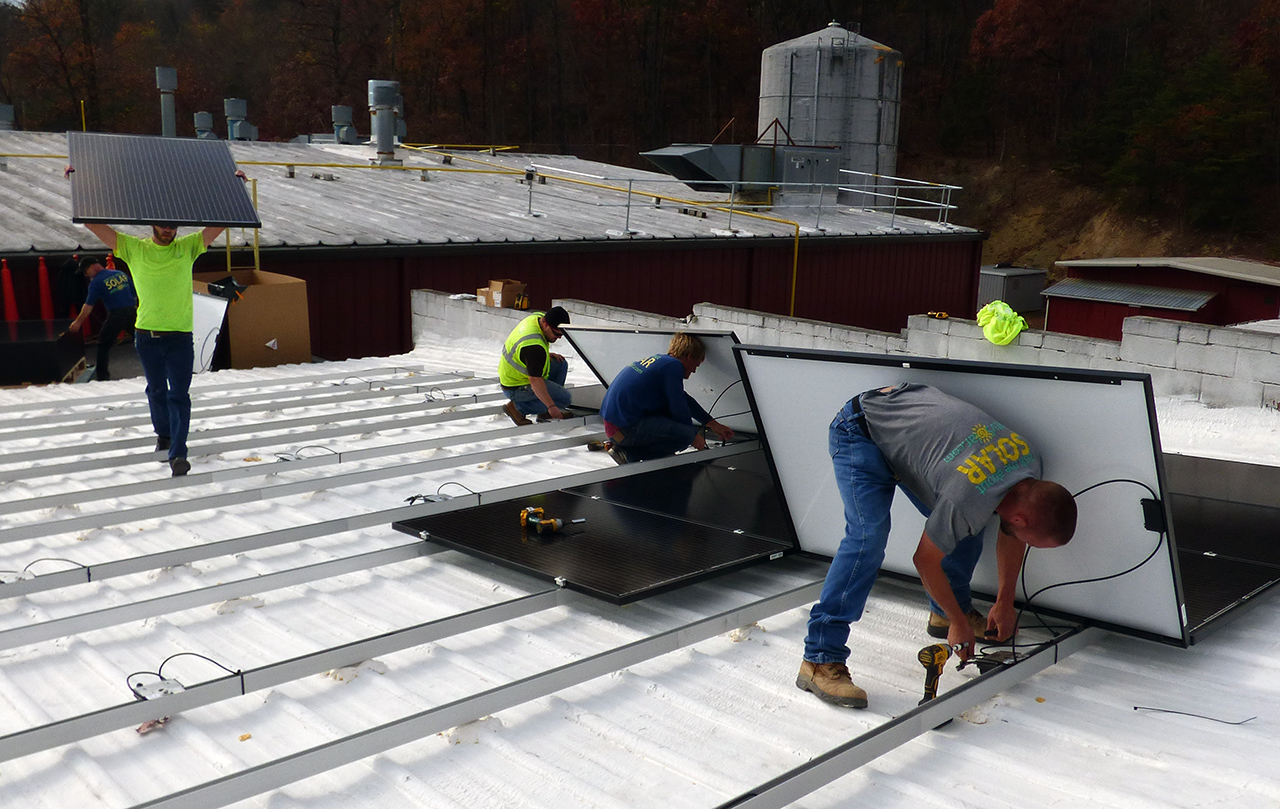 6. Where are you located and how do you support the local community where you operate?
7. Are you fully licensed and insured? Can I see your contractor license? How about your electrician?
8. Do you monitor systems for faults? What happens if something goes wrong with my system?
9. What if I want to install in stages and expand later?
10. What does your installation portfolio look like? Have you received any recognition in the media for your work?
---
Why Choose mtvSolar vs Competitors
We handle the entire permitting, inspection, and utility interconnection process and fees
Our customers love us and often come back for expansion. We even design systems with over-sized wiring and inverters if expansion is anticipated to prevent equipment replacements.
We've installed over 75% of all solar in WV. We've installed over 6 megawatts of total solar capacity.
We've installed more battery systems in the 4-state area than any other contractor. We were SolarPowerWorld's #5 off-grid contractor in the country. Our battery systems are properly engineered.
Every system is installed by full-time qualified mtvSolar employees, not temporary labor or trainees.
Our panels and batteries are 100% North American-Made
We use name brand inverters including SolarEdge and Schneider Electric
We are fully licensed and insured
We have multiple NABCEP certified installers and consultants. All systems are properly designed by a highly trained specialist.
100% Customer ownership, clients keep all tax credits, rebates and SREC income. No long term contracts, liens or other complication.
We will install on metal roofs, the ground, or anywhere appropriate for solar.
mtvSolar is ingrained in the local community, providing solar for public buildings, Habitat for humanity, as well as training and educational help for schools.
Zero pressure sales team, and hands-on approach from a trained consultant from start to finish, and then after!
Assistance in obtaining financing
Assistance in dealing with HOAs
Portfolio includes 1.8 mega-watt utility scale array in Salem, VA, 48kW off-grid system in Greenbrier county, 406kW carport array at APUs with EV charging stations, hotels, agriculture, large and small businesses, and many hundreds of residential systems.
mtvSolar has a permanent physical office location in Berkeley Springs, WV and can be contacted via email, social media and phone.
Systems are monitored online for faults or other issues. Often mtvSolar notices an issue and takes corrective action long before the client does.
Exposed rooftop conduit is metal, even when not required by code.
---
Getting Started with mtvSolar
Please have your most recent utility bill handy and then fill out our free estimate form here: http://www.mtvsolar.com/free-estimate/
You will be contacted shortly to answer some questions regarding your location and energy use, and then placed into contact with a trained solar consultant. In the meantime, see examples of our work in our blog: http://www.mtvsolar.com/blog/