We love having Colleen Wood and Hannah Ehlman on board helping homeowners go solar in our communities. Colleen and Hannah are our newest Solar PV Consultants, joining our team just this past Spring. New to the solar industry, but each with a strong platform in working with people, they dove into training and preparation immediately. As a result – both Colleen and Hannah earned their Solar PV Associate Certification through the North American Board of Certified Energy Practitioners (NABCEP).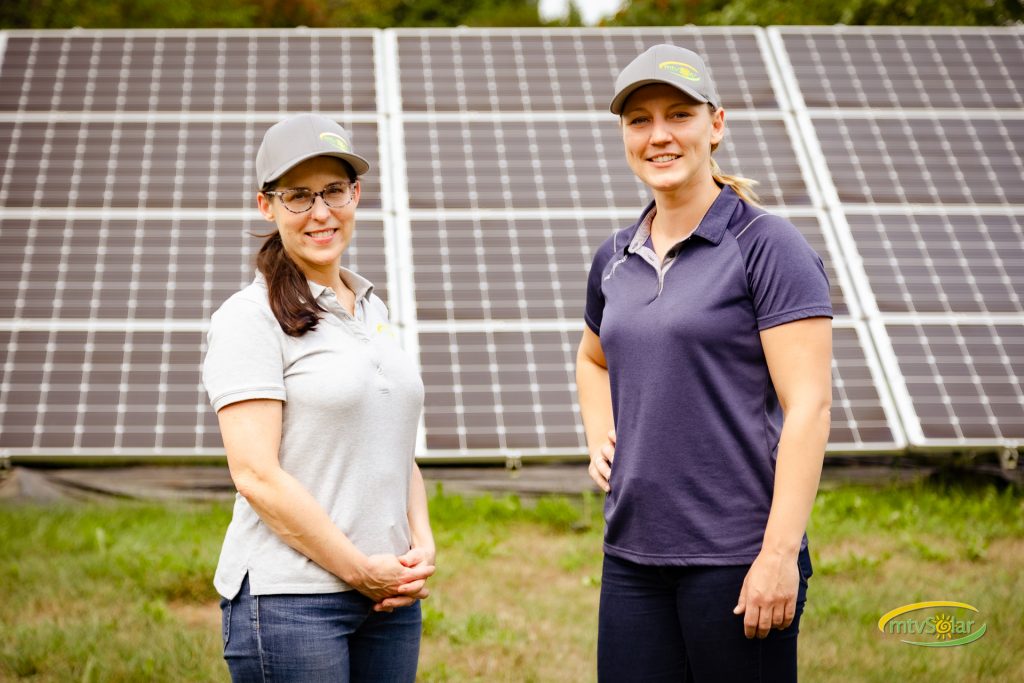 Colleen is thrilled to have recently joined the MTV Solar team! Having grown up with a solar water heating system on her childhood roof, Colleen has always been fascinated by the sun's energy. Her interest in science led her to obtain a degree in Industrial Engineering, which she put to use for many years working for NASA. Always interested in breaking into the solar industry, she was tickled when she learned that her friend, Danny Chiotos, was recruiting for Solar PV sales at Mountain View.
When not at work, you can find Colleen volunteering with her son's high school marching band. GO BEARS!
Hannah joined the mtvSolar team in April 2021 driven by her interest in sustainability, and passion for community. She plans to dive deep into solar education via Solar Energy International as well as NABCEP training courses in preparation for further certifications.
Hannah is quick on her toes, and eager to help you help yourself by installing solar! When she isn't working in the office, she loves to spend time with her two dogs. Hiking in the mountains makes her soul happy. When the warm weather hits, you can find Hannah in the woods backpacking. She also has an education in Fine Arts from Frostburg State University allowing a fresh and creative perspective on PV design.
Colleen and Hannah have each developed several solar projects with homeowners in the Mid-Atlantic and are both excited to move solar forward in Maryland, Pennsylvania, Virginia, and West Virginia using their NABCEP Associate Certifications to ensure quality projects from start to finish.