Community supported solar is now live and working in Capon Bridge, West Virginia at The River House. Through an innovative partnership with The River House, Mountain View Solar have completed our first Community Give Back solar project. Every time a homeowner or business owner installed solar with us, they have the option to assign a donated panel (at no added cost to them) to a partner Community Give Back non-profit organization. In this project, enough people assigned their donated panel to The River House to fill their roof with solar. With $0 paid for the entire project, The River House is now generating electricity from a full roof of twenty-four solar panels.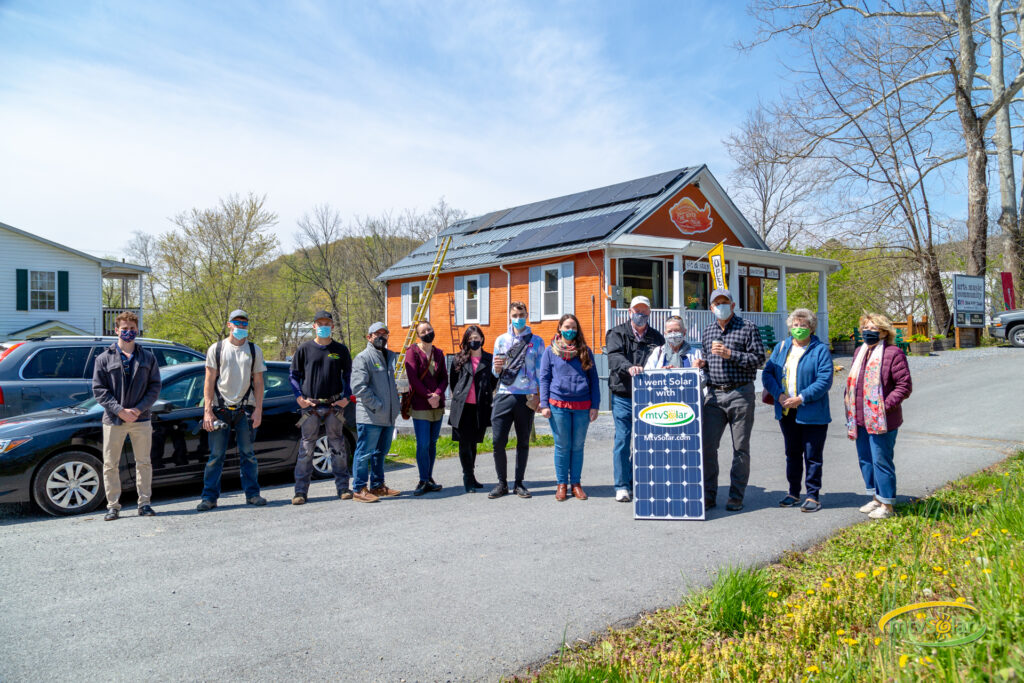 The River House is Mountain View Solar's flagship Community Give Back Program and was the location where we installed our first fully donated community-supported array. The River House has been an active champion of solar through holding events and spreading the word about this Community Give Back Program since its launch more than three years ago. As a key hub of arts and community in Hampshire County (with an amazing café!), The River House has been an ideal partner. The River House is a non-profit organization which would not benefit from incentives such as the federal tax credit without available funds to purchase a solar array (funds are directed into implementing its mission), this no-cost program was the perfect way to implement solar.
"It feels really good to incorporate renewable energy as a part of who we are as we strive to be green. This project means that the people in the community supported in our program with their own solar installations to give back to us. This solar system will help save money on our electric bill which seems like a simple thing, but every dollar matters to us, being a non-profit." said Executive Director Johanna Murray.
See the history of this project below:
We installed eight panels, the inverter, and all system racking with a ribbon cutting event and Solar Open House event in October 2018
We added two panels and spoke with students from Capon Bridge Middle School on what solar is and solar as a career to explore in April 2019
We added five panels and spoke with the Frederick County, VA Economic Development Authority to profile careers in the solar industry in September 2020
We completed this project in April 2021 – woo hoo!
We are grateful for the below list of panel donors who went solar with us:
Ralph Priesing
Booth Dyess and Ibi Hindrichs
Donna Catt and Marlene Gallo
Andy & Jane Arnold
Rick Purvis and Shelley Alger
Geoffry Wendel
Glenn & Carolyn Bland
Roya Milotte
Terry Mayhew
Fertig Farm
Tim and Beth Reese
Wood House Research
Sarah and Richard Bell
Richard Miles
Sunit Patel
Lou Martin
Anonymous Donor
We are now engaged with the Capon Bridge Public Library to explore the next Community Give Back project in Capon Bridge as a part of our ongoing commitment to spread no-cost solar to small and medium sized organizations in our communities. In addition, we are glad to continue our active Community Give Back Programs with the Friendsville (MD) Renewable Energy Effort which has currently brought the installation of a no-cost system at the Friendsville Fire Department, the Kids Club and the Laurel Center in Winchester which both have no-cost systems up and running that are being added to, and the Wardensville Garden Market which has an active Program.
Read more about our Community Give Back Program here and sign up here for your free, friendly, and professional solar estimate here so you can be a part of expanding no-cost solar to local non-profit organizations.